Don A. Witschger (June 6, 1925 — November 24, 2015)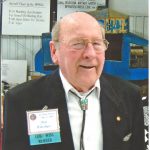 Donald Aubrey Witschger was born in Cincinnati, Ohio on June 6, 1925. He passed away peacefully on November 24, 2015 after a valiant battle with multiple cancers. Don served in the Navy Seabee 111th Battalion/Company D/Platoon 6 during WWII. He was part of the D-Day invasion of Normandy. Don retired after 30 years of truck driving for various companies and continued his passion for travel as a full time RV'er with his wife for another 25 years.
As an active member in the Commemorative Air Force (CAF) Lobo Wing at the Moriarty Airport, he enjoyed helping them restore vintage WWII aircraft. His love of flying was inspired by his Uncle Robert and was passed down to his son and granddaughter, both of whom are pilots.
Don was also active with amateur radio and used the call sign KC5VLV. Don's passion for guns and shooting was shown through his membership in the Zia Rifle and Pistol Club and his hours of reloading ammunition in his shed. Even at 90, he was still a phenomenal shot!
Don was preceded in death by Elaine Witschger (Koch), his wife of 60 years, and son Brad Aubrey Witschger. He leaves to mourn his sister, Audrey Teramo; sons, Scott (Maggy) Witschger and Jack (Mary) Ogg; grandchildren, Jennifer and Ryan (Amy) Witschger, Jameson and Eric Ogg; great grandchildren, Logan Witschger, Jackson and Kearsley Ogg; his niece Tina (Larry) Manion; and nephew Todd (Jeri) Teramo.
"This is KC5VLV clear and monitoring."